Reining, a perfect connection
with horses
Reining is an heritage that comes straight from American ranches. Quarter horse, the preferred reining horse, is trained to perform maneuvers with extreme precision. The technicality of the maneuvers became such that Reining developped into an international equestrian sport, which is part of the World Equestrian Games and the only Western discipline recognised by the FEI. Reining horse competition requires complete control of every movement with little or no apparent resistance. As well as finesse, attitude, smoothness, quickness and respect.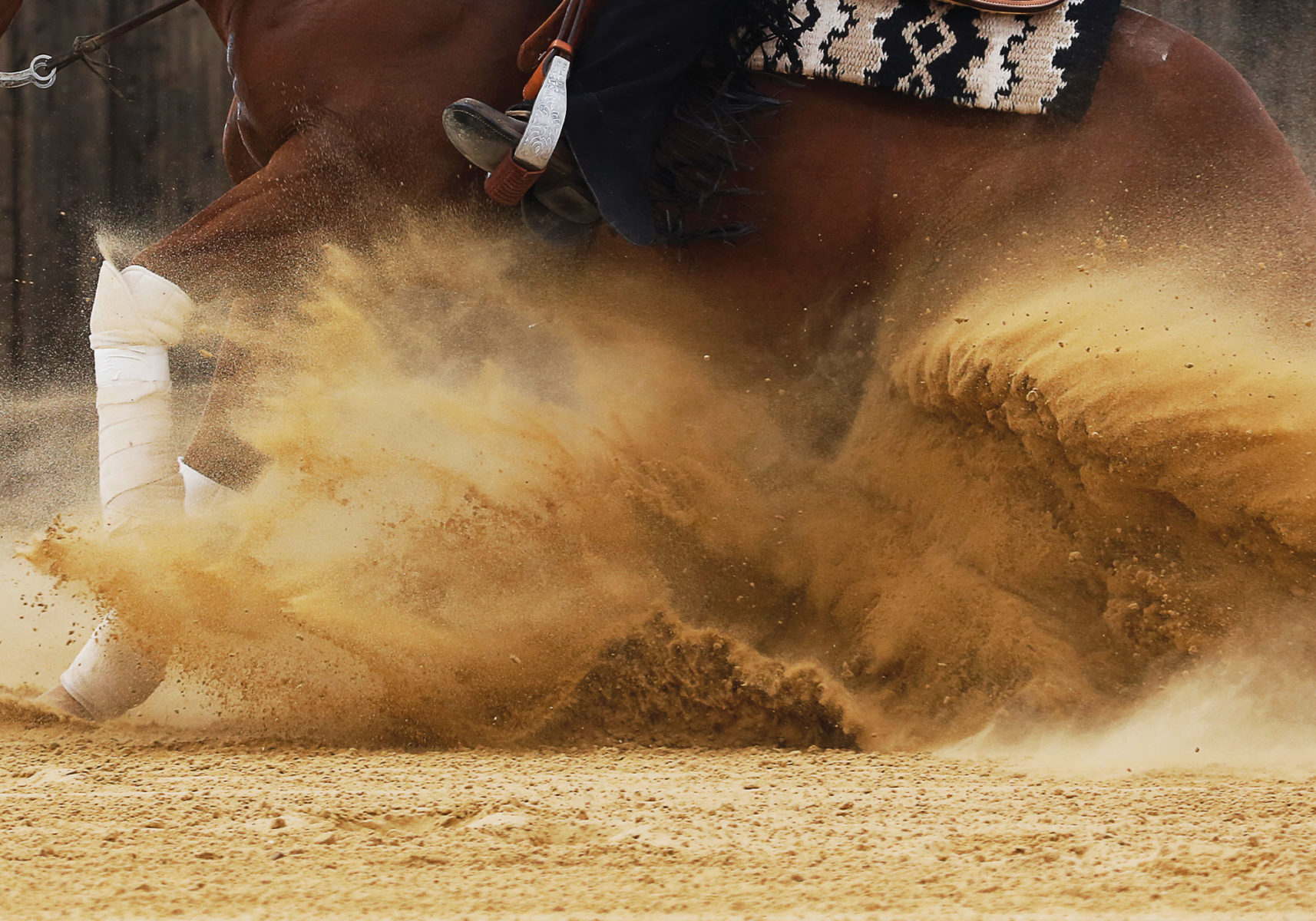 Sliding stop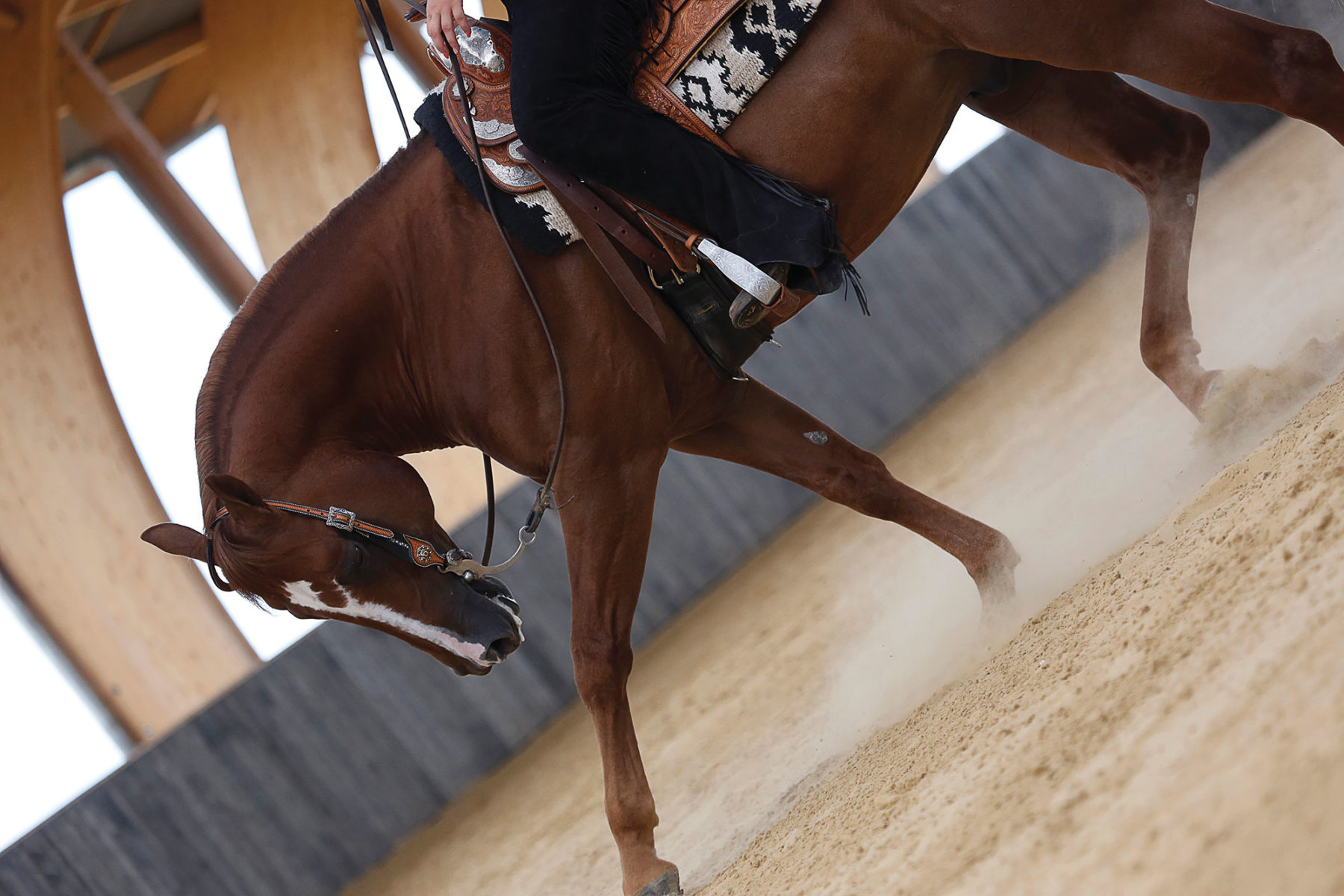 Circle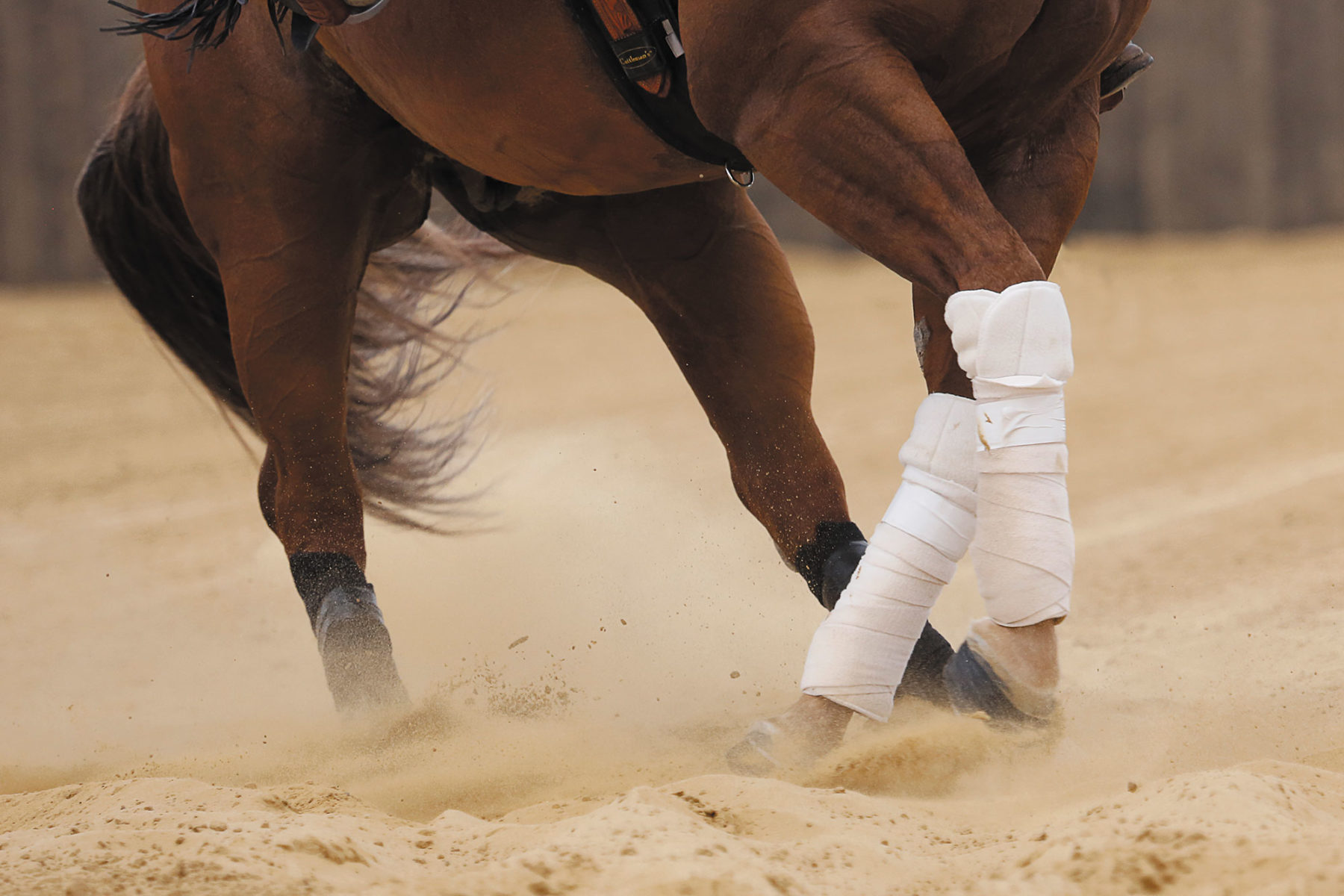 Spin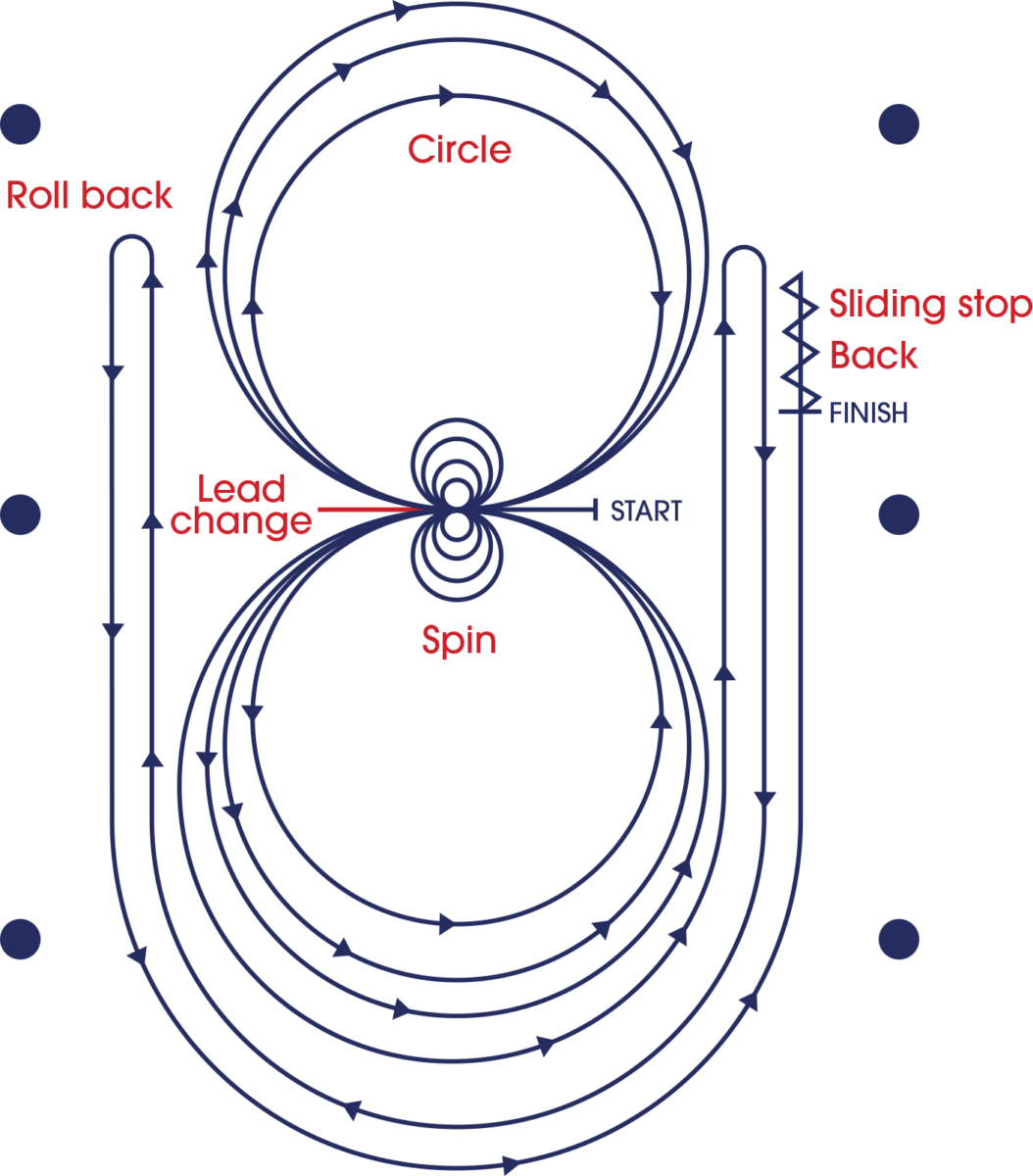 Stefano Ferri from Italy is head trainer at BO RANCH.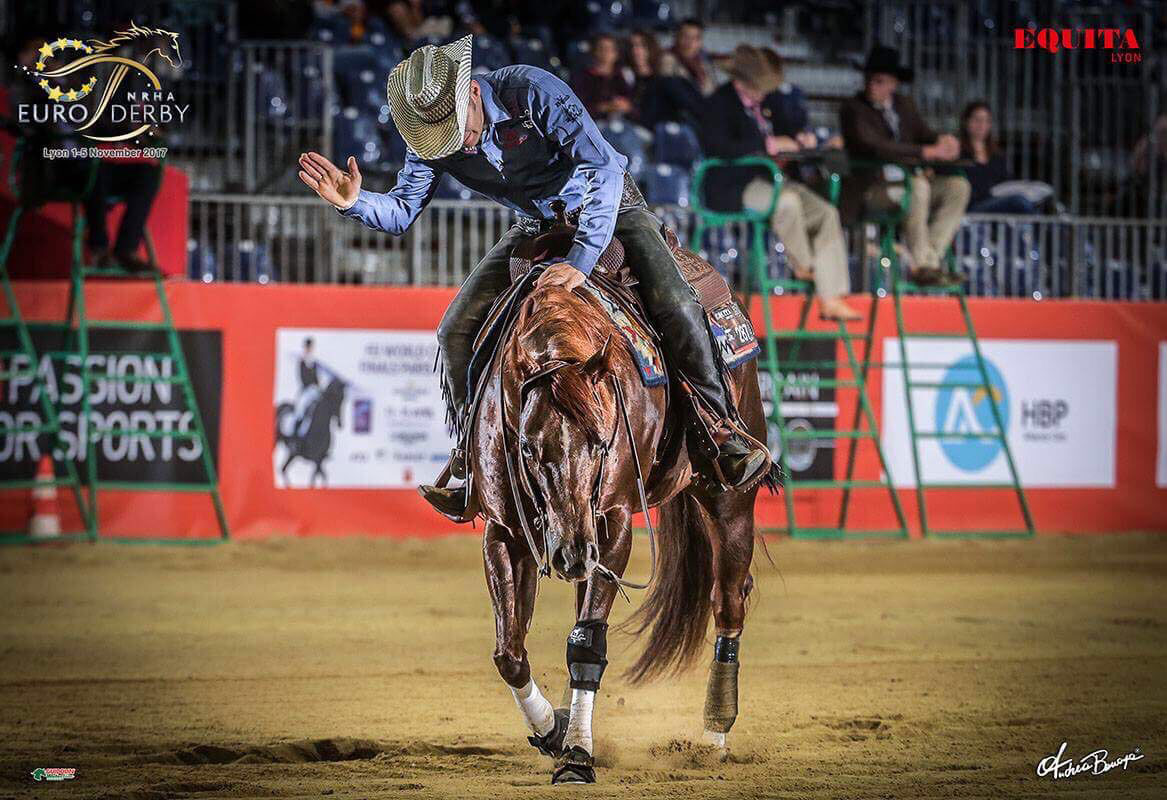 Show records
2017
NRHA Intermediate Open World • CHAMPION
NRHA Intermediate Open World Championship • 3RD PLACE
IRHA Derby Open Level 2&3 • FINALIST
German Breeders Derby Open Level 2&3 • FINALIST
CS Swiss Summer Show Intermediate Open • CHAMPION
CS Classic Trophy Intermediate Open • CHAMPION
Garden of England International Intermediate Open • CHAMPION
French Futurity 3YO Open Level 2 • CHAMPION
2016
23 Classic Intermediate Open Reserve • CHAMPION
2015
NRHA European Futurity Open Level 3 • FINALIST
NRHA European Derby Open Trophy • CHAMPION
2014
23 Classic Winter Show Open Reserve • CHAMPION
NRHA Belgium Derby Open Level 4 Reserve • CHAMPION
IRHA Maturity Open Level 3 Reserve • CHAMPION
WEG Individual • FINALIST
Breeders Futurity Open Trophy Reserve • CHAMPION
Breeders Futurity Open Level 3 • FINALIST
IRHA Futurity Open Trophy Champion and Reserve • CHAMPION
2013
NRHA European Futurity Open Level 3 • FINALIST
French Derby Open Level 4 • FINALIST
IRHA Maturity Open Level 4 • FINALIST
IRHA Futurity Open Trophy Reserve • CHAMPION
2012
NRHA European Futurity Open Level 3 • FINALIST
NRHA European Pre Futurity Open Level 4 • CHAMPION
IRHA Futurity Open Level 3 Reserve • CHAMPION
2011
NRHA European Futurity Open Level 2 • FINALIST
NRHA European Derby Open Level 3 • FINALIST
IRHA Futurity Open Level 3 • FINALIST
2010
IRHA Derby Open Level 1&2 • FINALIST
IRHA Maturity Open Level 1&2 • FINALIST
IRHA Futurity Open 1&2 • FINALIST
2009
NRHA European Futurity Open Level 1 • CHAMPION
IRHA Derby Limited Open • CHAMPION
IRHA Maturity Limited Open • CHAMPION
IRHA Futurity Limited Open • CHAMPION
2008
IRHA Maturity Limited Open • FINALIST
IRHA Futurity Limited Open Reserve • CHAMPION
2007
IRHA Derby Limited Open Reserve • CHAMPION
IRHA Maturity Limited Open • CHAMPION
IRHA Futurity Limited Open • FINALIST